Extended search
Abteilung Wirtschaftsförderung
Abteilung
Abteilung Wirtschaftsförderung
Rathaus
Marktplatz (M) 1
70173 Stuttgart
S-Mitte
Postal address
Landeshauptstadt Stuttgart
Abteilung Wirtschaftsförderung
70161 Stuttgart
Your way to us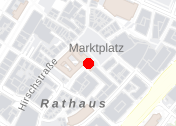 About us
Termine nach Vereinbarung.

More information
Events

schließen

Events

13.02.2019 18:00 Gemeinwohl-Kompakt-Bericht: Just the facts!

"Der Gemeinwohl-Kompakt-Bericht: Just the Facts!" lautet der Titel der Veranstaltung, zu der die städtische Wirtschaftsförderung im Rahmen des Förderprogramms "Nachhaltig fit für morgen" am Mittwoch, 13. Februar, 18 Uhr ins Stuttgarter Rathaus einlädt. Denkanstöße für eine nachhaltige Klimapolitik gibt der international renommierte und mehrfach ausgezeichnete deutsche Klimaforscher und Präsident der Deutschen Sektion des Club of Rome, Professor Dr. Mojib Latif.

15.03.2019 12:00 Blickfang Designmesse

(Weitere Termine finden Sie bei der Veranstaltung)
Vom 15. - 17. März 2019 findet in der Liederhalle zum 27. Mal die Designmesse "blickfang" statt. Junge, progressive Designer aus ganz Europa präsentieren Inspirationen und Innovationen aus der Welt des Möbel-, Mode- und Schmuckdesigns.

13.04.2019 09:00 Zweitägige Existenzgründungsseminare

(Weitere Termine finden Sie bei der Veranstaltung)
Die Wirtschaftsförderung der Landeshauptstadt Stuttgart bietet in Kooperation mit dem RKW zweitägige Existenzgründungsseminare für Gründer/-innen und Gründungsinteressierte an. Die Teilnehmer erhalten an den zwei Tagen Informationen zur Erstellung und den Inhalten eines Businessplans sowie was bei einer Gründung sonst noch zu beachten ist.